If you're missing travelling, we've got the post for you, Picture Perfect Spots in Ghana. TransferHome brings you the top 5 must places to land on in Ghana and how TransferHome is a great platform to take care of your mobile credit needs worldwide. While times are changing when it comes to travelling, we wanted to share some inspiration for when you can.
Aburi Botanical Garden
(Image Credit: TrustPilot)
Accra Ghana is a very beautiful city and the Aburi Botanical garden is a must visit place. Ever heard of an elephant apple? NO! Right! The aburi botanical garden is home to this and thousands of plants like this, this botanical garden has a rich history and is of paramount importance when it comes to saving plants in the world. The garden research centre has played a vital role in the development of modern farming methods in Ghana an example of that is the supply of cheap cocoa seeds to encourage the farming of cocoa in south Ghana. The people of the capital of Ghana, Acra are proud of such a place of historical importance which sees 75000 visits daily. It is located in the outskirts of Akbi. A trip here will prove to be a great experience for people in love with plants but above all it can be a great family place to visit where the kids are exposed to the nature of Africa, because these diverse species in this botanic garden might inspire many future botanists.
Manhiya Palace Museum
(Image Credit: Visit Ghana)
It is located in the beautiful city of Kumasi Ghana. Otumfuo Opoku Ware II the 15th king of Ghana in 1995 gave it as a gift to the people of Ghana in 1995 by rehabilitation of it. Manhiya Palace Museum was originally established in 1925, it serves a great purpose of preserving the history of Ghana, Africa. It has a wide range of presentations and video clips which has kept the history of Ghana and its traditions safe. If you are on a vacation in Ghana so do travel to Manhiya Palace Museum. If you visit a country and fail to grasp the history behind it, then what is the use of such a trip? Leaders, key figures, inventions, liberation, the Ghana independence day, the Ghana independence from Britishers, the Ghana language, it has all the information and you will be in awe of the beautiful country that is Ghana.
Coco Beach
(Image Credit: Hotelopia)
The Coco Beach in the capital of Ghana is yet a very attractive location but it has its fair bit of cons unlike the Manhiya Palace and the Abura Botanical gardens, it is not well maintained but you have to live with it, if you want to enjoy the local snacks like the cassava crips. Cassava is a long root and the cassava crips are made from these roots, they are very healthy unlike many snacks as they have minimal sodium, fats and calories. I included this place because it feels local and it portrays the real image of Ghana, a crowded place, lack of public transportation, infested with many families on weekends. It is for those travelers who want to blend into the real Ghana and understand how they live and how they enjoy in their free time.
Black Star Square
(Image Credit: AtlasObscura)
In 1957, Kwame Nkrumah turned into the first prime minister and leader of Gold Coast, presently Ghana in the wake of gaining autonomy from the British. Kwame Nkrumah started the development of the square to praise the country's freedom. It coincided with the visit of Queen Elizabeth II. Development finished in 1961, and it was named Black Star Square. Kwame Nkrumah was the person who drove Ghana, to pick up Independence from Britain. Black Star Square is a site for Ghana's Independence Day march, which is on the sixth of March each year. It is the host of all significant public social occasions and public festivals. Every guest is allowed to take pictures of structures, including the Black Star Gate. In Independence Square are stands that can accommodate 30,000 individuals. The square flaunts three landmarks that portray the battle for freedom and liberation from British. This incorporates the Independence Arch, the Liberation Day Monument, and the Black Star Monument, otherwise called the Black Star Gate. A sculpture of a warrior confronting the Independence Arch represents the Ghanaians who lost their lives battling for Ghana's autonomy. If you happened to be in Ghana on the 6th of march, then do visit this place.
Ankasa Conservation Area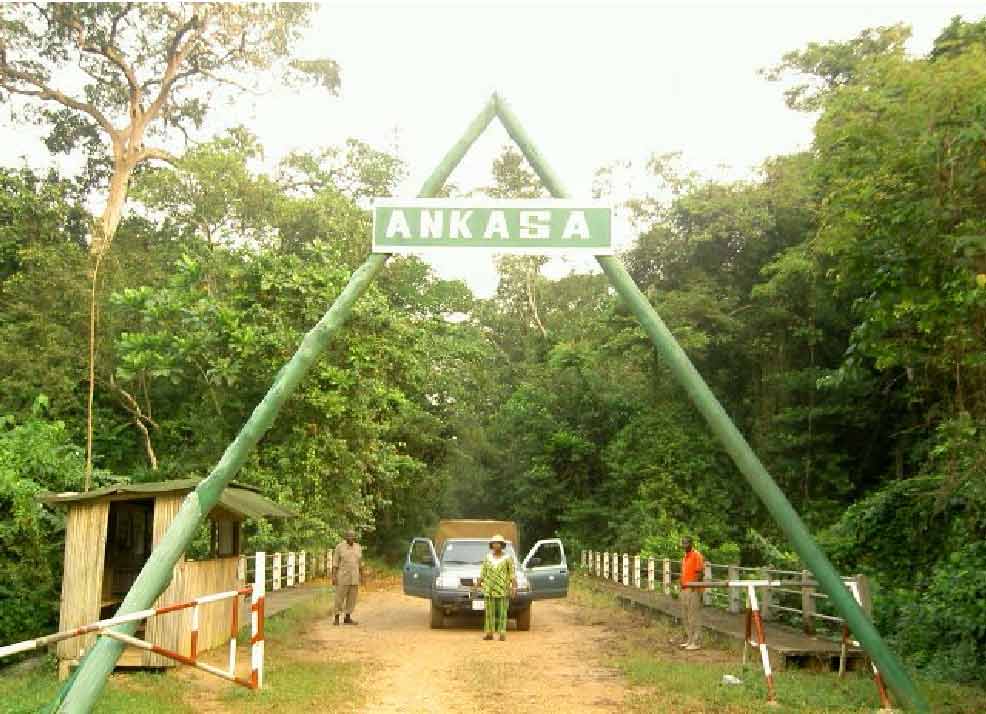 (Image Credit: BrandelMina)
 The perfect place if you are an animal lover. Bird sighting, Elephants, Leopards, Zebras and plethora of animals can be seen here. It is located about 365 kilometers west of Accra near the border with Côte d'Ivoire. The forest has the most biological diversity of any in Ghana, with over 800 vascular plant species, 639 butterfly species, and more than 190 bird species. It has camping facilities with toilets, shelter and water so you can camp in the wilderness.
More about us 
Now you all are well aware of the top 5 places to visit in Ghana and you must need a financial companion to aid in your mobile recharge. Let's carry on and talk about the best for the job, TransferHome. TransferHome is a simple to use, secure and solid transfer credit platform that permits you to top up mobile phones worldwide. With TransferHome the processing fee should be the least of your worries. You can download the TransferHome app from the Google Play store for your android devices or the App Store on your iOS devices, to use the web page you can go to transferhome.org and you can then choose the countries where you want to send the online recharge to. You can do recharge of many operators around the globe, like Airtel recharge is an option. You can transfer mobile credit around the globe. International mobile recharge and online recharge are a few clicks away, online mobile top up and sending top up has not been this easy. You can visit @transfer_home on Twitter, @transfer_home on Instagram  and @TransferHome on Facebook to get to know more about TransferHome. Airtel, Vodafone, Tigo and all the major mobile phone operators in Ghana can easily get mobile credit from TransferHome.
Connect with us
Download TransferHome from the Google Play and App Store to transfer mobile credit worldwide in 3 simple steps, share your love with TransferHome.
Don't forget to follow us on our social media channels to keep up to date with all the latest with TransferHome