YOU CAN ACCUMULATE YOUR NON - CONSUMED GIGAS!
ACTIVATE YOUR BUNDLES FROM $1 AND UP!

Vigency:
From April 19th, 2021 Until further notice
Other Conditions:
- Apply to prepaid customers
- Promotion applies for all current active bundles stating at USD1
- Customers can only accumulate GIGAS for internet browsing
- In order to activate Gigas, customers need to receive a second bundle for the same amount or higher as long as the first bundle is istill active, otherwise benefit will not be granted.
- Accumulated GIGAS will be consumed before the bundle
- Accumulated GIGAS keep the validity of the last purchased bundle.
- Customers can accumulate GIGAS only from the 1 purchased bundle
How customers know their accumulated GIGAS?
They will receive a SMS message from Claro
Customers can check their GIGAS by dialing *123#.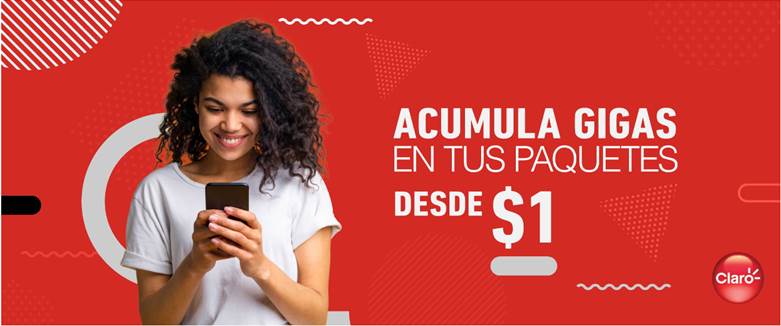 - ¡ACUMULA GIGAS NO USADOS
ACTIVANDO TUS PAQUETES PREPAGO DESDE $1! –Vigencia:
Desde el
19 de Abril 2021
Condiciones:
- Aplica para
prepago
- Aplica para activación de paquetes prepago de la oferta comercial vigente desde $1 por todos los canales y formas de pago.
- Solo se podrán acumular GIGAS para navegación libre.
- Para acumular gigas, el abonado deberá activar un segundo paquete de igual o mayor denominación que el paquete inicialmente contratado previo a finalizar la vigencia del primer paquete. De no cumplir con esta condición, se pierde el beneficio de acumulación de GIGAS para la siguiente activación.
- Prelación de consumo: GIGAS acumulados se consumen antes que el cupo de GIGAS del paquete vigente.
- Los GIGAS acumulados conservan la vigencia del siguiente paquete contratado.
- El abonado podrá acumular GIGAS de navegación libre por un solo periodo, es decir que solo podrá acumular los GIGAS no usados del primer paquete contratado y consumirlos en la contratación del segundo paquete.
- Este ciclo se repite siempre y cuando se cumplan las condiciones comerciales.
¿Cómo se entera el cliente final que ACUMULÓ GIGAS?
- Cada vez que ACUMULE GIGAS, cliente recibe mensaje informativo
- Adicional, podrá consultar su cupo de GIGAS en la opción Consulta de Saldos, marcando al *123#.