- The promotion will run from 00:01 am April 1st 2021 through to and including 11:59pm June 30th 2021 ("The Promotion Period").
- Customers will be required to send a minimum Top Up of $5 via the below channels during the promotional period to receive 5 times bonus credit on the Top Up Value plus 30 days Whatsapp Chat: • POS and stores at the Retail channel • Authorized websites and Mobile Apps • Digicel Online at www.digicelinternational.com •Digicel Top Up App and/or MyDigicel App
- Promotion applies only to prepaid Digicel customers sending Top Up to El Salvador.
- The duration of the bonus credit validity on the recipient's mobile number is dependent on the Top Up Value (refer to grid under term #2)
- The bonus credit on the recipient's Digicel mobile number can be used for: • Digicel to Digicel calls (on-net calls); • Calls to USA • Calls to Canada
- Bonus credit is automatically added once Top Up value is received
- To check bonus, customer may dial *120*53#
- Benefit of Whatsapp ONLY includes Whatsapp Chat; Whatsapp calls or video calls are not included
- Postpaid customers are not eligible for the promotion.
- Digicel will not be responsible for: (1) technical failures of any kind, including, but not limited to malfunctions, interruptions, or disconnections in network connections or hardware or software; (2) unauthorized human intervention in any part; or (3) technical or human error which may occur in the administration of this promotion.
- Digicel reserves the right to at any time vary the terms of the promotion, to amend its terms and conditions or to withdraw the promotion. In any of these events, notice will be given via media advertisements or messages to subscribers and will be effective immediately or as of the date referred to in such notifications.
- Digicel reserves the right to terminate, cancel, suspend and/or modify the promotion if any fraud, virus or other technical problem corrupts the administration, security, safety or proper play of the promotion. In such event, Digicel hereby specifically reserve the right (but not the obligation) to award some other prize hereunder by means of a random drawing from among the eligible entries received up until the time of the impairment.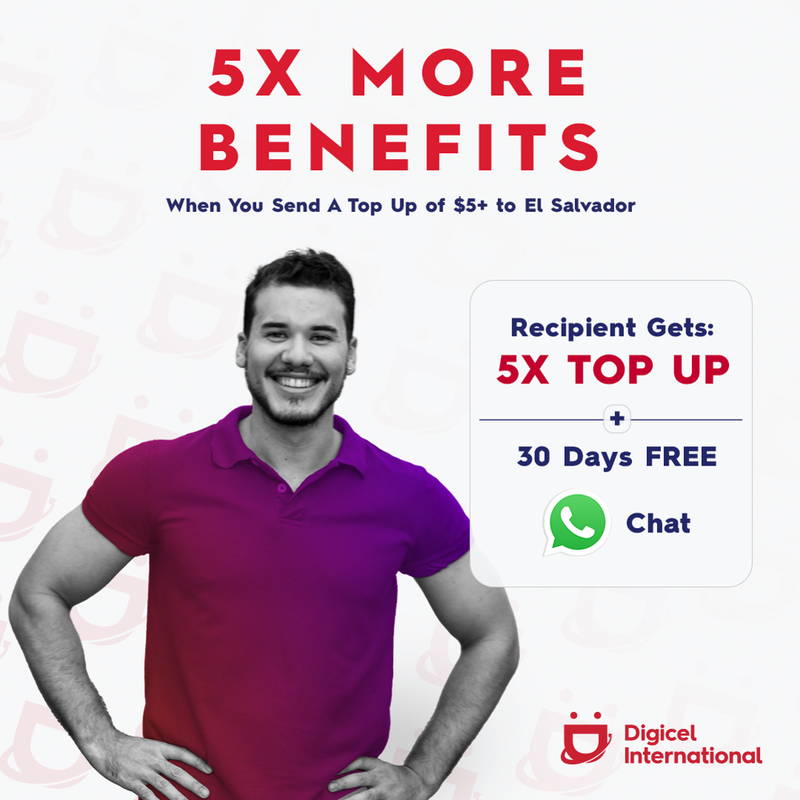 Términos y Condiciones (Spanisj version):
- La promoción será válida desde las 00:01 am del 1 de Abril de 2021 hasta (e incluyendo) las 11:59pm del 30 de Junio de 2021 ("El Periodo de la Promoción").
- Los clientes deberán enviar un Top Up mínimo de $5 a traves de los canales descritos a continuación, durante el Periodo de la Promoción, para recibir el bono de 5 veces el crédito enviado como topup, mas 30 días de Whatsapp Chat:
• Tiendas y establecimientos en el canal Retail
• Páginas web y aplicaciones móviles de agentes y distribuidores autorizados
• Canal Online de Digicel (www.digicelinternational.com)
• Digicel Top Up App y/o MyDigicel App
- La Promoción aplica solo para clientes Digicel Prepago, enviando recargas (topup) a El Salvador.
- La duración del crédito del bono en el número del Receptor depende del valor enviado (referirse a la tabla del punto #2).
- El crédito del bono en el teléfono Digicel del Receptor, puede ser utilizado para:
• Llamadas de Digicel a Digicel (llamadas on-net);
• Llamadas a EEUU;
• Llamadas a Canadá
- El crédito del bono se añade automáticamente una vez que el topup es recibido.
- Para revisar el estatus del bono, el cliente puede marcar *120*53#
- El beneficio de "Whatsapp" UNICAMENTE incluye Whatsapp Chat. Llamadas por Whatsapp y video-llamadas por
Whatsapp no están incluidas.
- Clientes Postpago no son elegibles para la promoción.
- Digicel no será responsable por: (1) fallas técnicas de ningún tipo, incluyendo, pero no limitándose a mal funcionamiento, interrupción o desconexión del servicio de red o de equipos de hardware; (2) Intervención
humana no-autorizada y (3) Errores técnicos o humanos en la configuración de esta promoción.
- Digicel se reserva el derecho de modificar los términos y condiciones de esta promoción en cualquier momento. En cualquiera de estos casos, se notificarán los cambios vía publicidad en medios de comunicación o mensajes a los suscriptores y será efectiva al momento en que dicha notificación sea implementada/enviada
- Digicel se reserva el derecho de terminar, cancelar, suspender o modificar la promoción en caso de cualquier sospecha de fraude, virus informático o cualquier otro inconveniente técnico que comprometa la seguridad y la correcta aplicación de la promoción. En dado caso, Digicel se reserva el derecho, pero no así la obligación, de otorgar un premio a través de un sorteo al azar entre los clientes afectados hasta el momento de la notificación.