- Offer valid from 12:01am Friday, January 15th, 2021 until Wednesday March 31st , 2021.
- This offer is for top ups sent to Haiti via retail stores in Chile only.
- Only prepaid customers are eligible for this promotion; 4G Broadband and postpaid customers are not eligible. Purchasing a prepaid plan will not qualify for this promotional offer. Customers on Jeunesse or Youth plan are not eligible for bonus credit.
- Customers are required to top up at or above the below entry points in order to receive bonus minutes:
Mondays - Thursdays >> 2X Bonus on top ups of CLP 2,500 or more
Fridays - Sundays >> 3X Bonus on top ups of CLP 2,500 or more
- Bonus minutes may call and SMS local Digicel to Digicel numbers only.
- Customers may dial*120*18# send to check bonus minutes.
- Digicel will not be responsible for: (1) technical failures of any kind, including, but not limited to malfunctions, interruptions, or disconnections in network connections or hardware or software; (2) unauthorized human intervention in any part; or (3) technical or human error which may occur in the administration of this promotion.
- Digicel reserves the right to at any time vary the terms of the promotion, to amend its terms and conditions or to withdraw the promotion. In any of these events, notice will be given via media advertisements or messages to subscribers and will be effective immediately or as of the date referred to in such notifications.
- Digicel reserves the right to terminate, cancel, suspend and/or modify the promotion if any fraud, virus or other technical problem corrupts the administration, security, safety or proper play of the promotion. In such event, Digicel hereby specifically reserve the right (but not the obligation) to award some other prize hereunder by means of a random drawing from among
the eligible entries received up until the time of the impairment.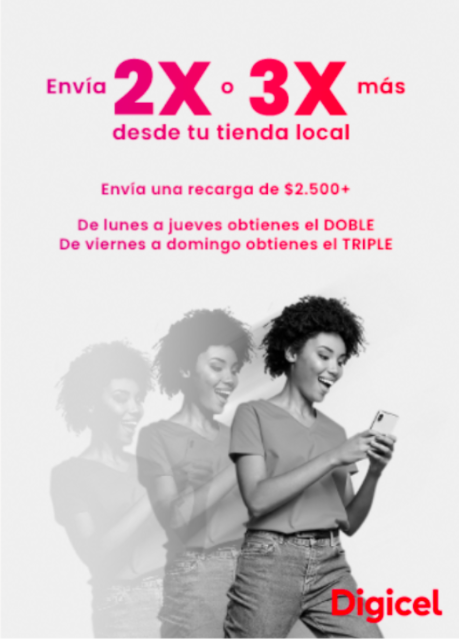 Términos y Condiciones (Spanish version):
- Oferta válida desde las 12:01 am del viernes 15 de enero de 2021 hasta el miércoles 31 de marzo de 2021.
- Esta oferta es para recargas enviadas a Haití a través de tiendas minoristas en Chile únicamente y aplicaciones móviles o páginas web de agentes autorizados.
- Solo los clientes de prepago son elegibles para esta promoción; Clientes de banda ancha 4G y pospago no son elegibles. La compra de un plan prepago no califica para esta oferta promocional.
Clientes en el plan Jeunesse o Youth no son elegibles para crédito de bonificación.
- Los clientes deben recargar por un valor igual o mayor al que se detalla a continuación para recibir el bono de minutos:
Lunes – Jueves 2X 2,500 o más
Viernes – Domingo 3X 2,500 o más
- Los minutos de bonificación pueden ser utilizados para llamar y enviar SMS locales de números Digicel a Digicel únicamente.
- Los clientes pueden marcar *120*18# enviar para verificar los minutos de bonificación.
- Digicel no será responsable de: (1) fallas técnicas de ningún tipo, incluidas, entre otras, mal funcionamiento, interrupciones o desconexiones en las conexiones de red o hardware o software; (2) intervención humana no autorizada en cualquier parte; o (3) error técnico o humano que pueda ocurrir en la administración de esta promoción.
- Digicel se reserva el derecho de modificar en cualquier momento los términos de la promoción, modificar sus términos y condiciones o retirar la promoción. En cualquiera de estos eventos se dará aviso a través de los medios anuncios o mensajes a los suscriptores y serán efectivos inmediatamente o a partir de la fecha mencionado en dichas notificaciones.
- Digicel se reserva el derecho de terminar, cancelar, suspender y / o modificar la promoción si existe algún fraude, virus u otro problema técnico corrompe la administración, la seguridad o el funcionamiento adecuado del promoción. En tal caso, Digicel se reserva específicamente el derecho (pero no la obligación) de otorgar algún otro premio a continuación mediante un sorteo aleatorio de entre las inscripciones elegibles recibido hasta el momento de la deficiencia.